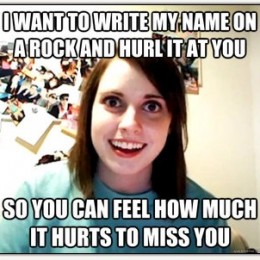 …and even if you're not an ex, you might still something.
Yaknow…I have to start this quick rant by saying…I honestly feel blessed to have been in the relationships I've been in, and to have met, called friends and regarded as loved ones some of the most awesome women on the planet. Seriously. You all know who you are and should be smiling 😉
…but every once in a while "people" pop up (by *people* I mean women with a weird obsessive grudge and some sort of creepy need to cyberstalk me) that really make my arse twitch.