So I got up this morning and found my FB notices going nuts…why? Sad Tony Is Sad. If you've heard this phrase…you know what comes with it…funny pics of me 😉
Here's why. Tony is a dork, but he has some AWESOME friends and fans.
One of my very awesome friends posted this on her FB page. It's a funny t-shirt idea I came up with as sort of a gag. The promotion is, if I see you wearing it in public…or more importantly posting a pic of you wearing it online (and keep it up there)…I'll totally buy you a beer.
I cant tell you how awesome this is 😉 …I've been grinning all afternoon, and the best part, she remarked that she would have done this sooner if her daughter hadn't commandeered the shirt for so long 😉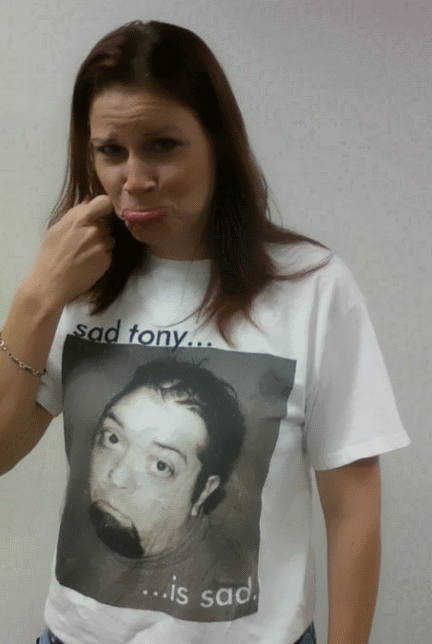 So I guess we could title this "Free Beer for My Fans" but it isn't exactly that now is it? It's just that for those friends and fans wearing the shirt I wanted to give back to them a bit, yaknow? The picture links to my Zazzle store where you can buy the shirt, and potentially dupe me into thinking you need a free drink 😉
Anyhow, you guys enjoy and have a GREAT weekend.
-Tony