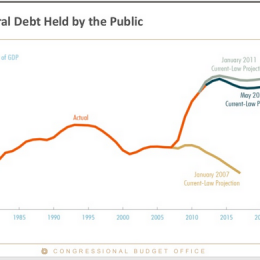 There is a link floating around on Facebook citing data from the CBO saying that the federal economy's deficit is on a downward slope. The problem is that 5% of the real findings were taken out of context and if you'd read the whole thing, you'd know why none of the politicians are bragging about it.
Read the whole thing, it will be a quick lesson on economics and math and why you shouldn't base your political leanings based on FB posts unless they cite real data…say…like the CBO's findings. Which cooincidentally places blame on ALL of the politicians, not just your trusted party.
To give a sense of how much deficit reduction would be required to reach an illustrative target(not a recommendation!):Suppose that policymakers wanted to reduce debt from is current 73 percent of CDP to its 40-year average of 38 percent, and to make that reduction of 35 percent linearly over 35 years – that is, by 1 percent of GDP per year.

To achieve that goal with policy changes that phased in over time would require changes that save nearly $2 trillion over the coming decade.
Cept for one problem. WERE NOWHERE NEAR THAT AND SHOW NO EVIDENCE OF EVEN MEETING 10% OF THESE GOALS.
Please watch the full presentation HERE at CBO.GOV
So stop pointing the finger at Republican and Democrats, because we're the ones that voted these guys in and let them ruin what was an economic titan.
-me