Seriously…are we getting dumber? Our kid's IQ is worse?!
Just thought about something, our IQ's and education…
The Roman Empire survived well over a thousand years by reinventing themselves as the center of civilization, and in it's venerable years, the center of control for the Catholic Church, which in its later years was actually for more powerful than the empire itself. I mean we're talking like 1700 years. that's 3 times longer than almost every other government in history (that we have real documentation of). They were among the most educated people on the planet for their time. Many many great thinkers were a part of the empire and contributed to it's success. The idea
Now the U.S., we're just a little over 200 years in and barely cohesive. UK isn't much further and isn't much better off. I see countries that invested heavily in their education system may have lived a little poorer, but are now completely showing us up. What's worse is I feel like we're ignoring it. We have these half-assed programs that are supposed to have a huge impact on our educational system when we're completely ignoring the fact that we haven't been adequately educating for decades.
What does it take to get people to see the problem here?

The article above is saying that for the first time in our existence, the average IQ of next generation in the US will not be smarter than the previous generation. How the hell does that happen? Is our education system so poor or entrenched that we cant reverse this trend? How is it that people in charge of our education system didn't see this coming?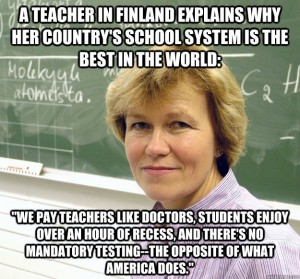 This scares me. I mean, what happens in 20 years when it's our kids in charge? I mean personally I haven't actually seen examples of this per se, but wow how does this pan out?
By the same token, I've been reading about the "Flynn Effect" where our IQ's are showing an increase, but because the generation gap is statistically affected by relative age this notion is less severe than the media it portraying. The problem in this is that most of the statistics are showing that we are not keeping up with systems in play throughout the rest of the world. However this same idea would also depict our great grandparents as being mentally retarded by today's standards of intellectualism. So is the beauty of the increase is in the eye of the beholder? Do we have to stay competitive with other nations or continue on our path to creating a huge division in our population intellectually?
On that note, I REALLY love what has been done in Finland. They have made education a positive part of their society rather than a problematic half successful tax on their population. I put some links below if you're interested in reading them.
/rant over.
LINKS
Great Article on where we are educationally from the ETC blog.
Article about the Flynn Effect and details on this from Smithsonian.com
Why are Finland's schools so successful?
Heavy Details on why Finland's education system works so well.
Another article on differences in Finland's Education System