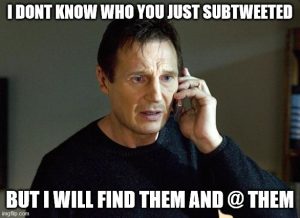 I've been refraining from writing for a long time. The world got a little bit crazy, and my writing is and always had been intended an outlet of importance only to myself. But this year…2020…it has sucked more than anything has sucked before. Seeing so many people hurt, so many people sick, and so many people left without any real help, it's kind of lit the fires again (so to speak.) This is me just dipping my feet back in the pool. No citations, no extra research because honestly I don't have time for it. But who knows, maybe I will start making more time for writing again.
So…here it goes. My subtweeting is usually to avoid the crazy mob of pundits' fans and their socks. Maybe someday I'll shift a focus to being an influencer, but right now most of what I see is people using their powers to rile up their fans with shit-poor information.
The bigger problem with this, is that it is inspiring conflict, not resolution. Inspiring people to act and protect is beautiful. Inspiring people to suppress, to harm, or do violence, by word, inference, or gesture…that makes one part of the problem.
If the response is violence, suppression, or harm, it means that the system is either incapable of addressing the problem, or there is an agenda that specifically seeks to condone/promote the disparity.
If you're wondering why there isn't more oversight, simply look at everyone not voting for it. That's literally all that is necessary. Vote them out, and vote representatives in that support term limits.
It might take a decade, but the end result will be all of the old good-ol' boys will be gone, and younger, less corrupted representatives will only get 8 years(or whatever) to make their difference. The old guys will not be able to maintain their status quo.
We would also see quickly, a more diverse representation. Is the majority still white? Yep, but not for long. By creating/supporting initiatives that lessen the strength of minority votes, institutional agendas remain entrenched.
I hate to say it, but look at Russia. Putin's playbook was a long long game, and it worked. Ignore that he's scary as hell, but he systematically realign most of Russia to his agenda. I think honestly that's the same playbook we're seeing from the political institution now.
A small change in policy now nudges demographics to a more controllable voting situation. Think of it as non-geographic gerrymandering. And here we are, letting it happen, year after year, letting the same people do the same things to us.
Vote them out…vote them out and for heaven's sake, don't let them stay and continue to do harm.