Lunchtime! Salmon and Cajun Spiced Veggies
Okay so I've been making a plan to do a 100% paleo(ish) breakfast and lunch for a long time, and am now pretty close to being able to do it.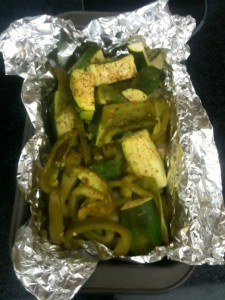 Here's todays lunch, Salmon and Cajun Spiced Veggies.
Ingredients
8oz salmon filet
1/2 small green squash
1/2 bell pepper
1/2 small white onion
1 Serrano pepper
1 tbsp of Slap Yo Mama Cajun Seasoning
1/2 tbsp garlic
1/2 cup water
Preheat the oven to 400
Dice all the veggies up.
You don't have to, but I cut the filet into 2 smaller strips to fit into a small roasting/baking pan.
Mix the spices up with the veggies.
Put the salmon in the bottom, then put all the veggies on top
Pour the .5 cup of water in.
Stick in the oven for about an hour or until salmon is done.
This came out pretty close to my expectations. The salmon might need to be seasoned to your taste but the mix works quite well. everything was fully cooked and the Serrano mixed with the water very nicely. It's different, but it came out pretty good.