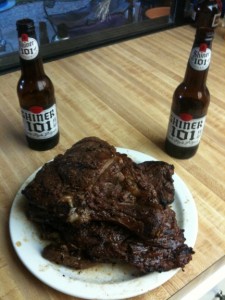 The "Cowboy" Ribeye is this awesome steak recipe we came up with back in my restaurant days. I've evolved it a bit since then, but the basic idea is still prevalent.
Originally I held off on publishing this because it was my baby-ace-primo-you-cant-have-it-like-this-without-my-invitation-once-a-year specialty. Until now I've only allowed this recipe into the hands of a few friends (namely Erica and Kevin)…but it's time, and doing it right isn't cheap in this case, so it's not like everyone can do it. I don't remember how the term "Cowboy" started…I think it was a reference to the garlic butter that we used the first time we tinkered with the recipe.
In truth, it's all about the temperature and the marinade.
I am a HUGE fan of high end ribeyes. Almost to the point that I am an elitist. My favorite steak outside my own kitchen is that of a rather infamous cut at none other than Del Frisco's Double Eagle of Steak House (of Addison)1. Now that said, I also like my steaks cooked "Pittsburgh Rare"2
1. This isn't a ribeye you should cook to well done. If you like your meat well done, please be adventurous and try it at medium, because I don't have any experience in preparing edible charcoal and honestly I don't know how it might taste. This recipe cooks best between Pittsburgh and medium rare.
2. Get yourself as many ribeyes as you feel necessary to prove your prowess.3
3. Ingredients: (per steak)
1/4 cup melted butter
1/8 cup olive oil
1/8 tspn rosemary
1/8 tspn thyme
1/8 tspn sage
1/8 tspn oregano
1/2 tspn salt
1/2 tspn pepper
2 tspn minced garlic
4. Melt the butter/margarine in a mixing bowl, mix with oil, after mixed, drop in all the rest of the ingredients until thoroughly mixed together.
5. Lightly cover both sides of steaks with the marinade, with a heavier layer on top of the steak. Let sit in the marinade for a nice long time, I do mine for up to 8 hours(room temp), however it tastes really good even after only 20 minutes or so.4
6. Cook to desired temperature over flame. 5
You will notice in the pic we accompanied our grilling delight with a truly satisfactory beverage (Shiner 101). I suggest some easy stuffed mushrooms or twice-baked potatoes with these. We opted for the stuff mushrooms in this case. I will post the recipe for those next.